RANGALI ISLAND, 20077, MALDIVES
THE MURAKA
Discover THE MURAKA, a first-of-its-kind, luxury two-level residence with a master bedroom submerged over 16 feet below sea level in the Indian Ocean, as part of the Conrad Maldives Rangali Island resort.
A PERSONALIZED ARRIVAL
How do you get to the Maldives Islands?
Experience a private seaplane arrival or travel from the main resort by our private speedboat, which you can use for the duration of your stay, before being escorted along THE MURAKA jetty by your personal island host.
ARRIVAL
Your Conrad Maldives experience begins before you arrive on Rangali Island. All you have to do is provide your international flight details and travel plans, and let us do the rest.
Guests arriving between 6am and 4pm transfer by scenic seaplane flight
Guests arriving between 4pm and 10pm transfer by short domestic flight then speedboat ride
Alternatively, arrive via a luxury three-hour yacht charter
THE UPPER LEVEL
Above water, enjoy living and dining areas fitting of one of the world's most exclusive residences.
Two bedrooms and a bathroom with ocean-facing tub
Outdoor deck with infinity pool
Private 24-hour butler and private chef
On-call fitness trainer and spa treatments
Private jet skis
Discover indoor-outdoor living, private pools, and Indian Ocean views. Choose luxury villas and suites – peppered across two islands – with beach, water or spa locations.
YOUR ODYSSEY STARTS NOW
Nestled in the South Ari Atoll, Our exclusive island is accessible by a 30-minute seaplane flight or a short domestic flight to a nearby island, followed by speedboat transfer.
ALCHEMY AT THE OVER-WATER SPA
Owner of the "Best Private Island Spa & Hotel Spa, Haute Grandeur Awards 2017" title, and set on stilts above the Indian Ocean, the spa offers treatments corresponding with the chakra systems of the body.
ENLIGHTENMENT BEGINS HERE
Each ritual commences with a foot bath ceremony of pure Himalayan salts, selected fruits or flowers, and essential oils. Be guided in purifying breathing exercises as you immerse into your spa journey.
Hours: 
10am-7pm
AWAKEN YOUR SENSES
Harmonious aromas fill the air, and three glass-floored treatment rooms provide entrancing views of the coral below. The secluded serenity deck, with whirlpool, offers a soft breeze as a calming finale to your treatment.
SIGNATURE TREATMENTS
Choose couple's treatments, customized massages or chakra color rituals. Emerge from each anew from the healing powers of our ancient rhythmic treatments paired with world-class Valmont, Elemis and Thalgo products.
THE DESTINATION SPA RESORT
Located 100 meters off the tip of Rangalifinolhu Island, the tucked-away Spa Retreat provides a luxurious sanctuary where every aspect of your health and wellbeing is addressed – from diet and body treatments to beauty. Combining expertise from around the world, enhance your body and soul with individual, effective spa experiences. The spa is complete with hair and nail salon, boutique, Vichy shower and nine couple's treatment rooms – many with private steam, sauna and jet bath.
Hours:
10am-9pm
MANDHOO SPA RESTAURANT
Sitting on stilts above the gentle waves and marine life, Mandhoo Restaurant calms your senses as you dine. The menu, created to energize and nourish the body, uses organic produce – with many ingredients grown on the island.
UTOPIAN SPA VILLAS
Setting the precedence for luxury travel in the Maldives, each over-water spa villa has its own private double treatment room and sun deck with whirlpool. With complete separation from the rest of the resort, these villas offer blissful seclusion.
FOR THE BODY & SOUL
Renowned for its laid-back lifestyle, Rangali Island also offers abundant opportunities to keep active. We're one of the only resorts in the country with a dedicated naturopath, who works to complement your fitness regime to help you reach your health or nutritional goals.
PUSH THE LIMITS
Keep doing what you love during your island getaway. Book activities, lessons and private sessions through your island host or our recreation team.
Daily classes including bootcamp and circuits
Complimentary beach volleyball, table tennis, stretching and power walking
24-hour fitness center, with specialists on hand between 7am-8pm
Flood-lit tennis courts and coaching
Onsite watersports center
FIND YOUR BALANCE
Heal your soul and find calm within the tranquility of our island paradise. Daily yoga sessions are run by our resident instructor, or book one-to-one instruction for a personal experience.
Hatha Yoga – a combination of yoga postures and breathing exercises to achieve self-awareness and mind control
Yoga for Body & Mind – a one-hour session using stretching and meditation to soothe and engage your mind and body
Private Yoga – 60 minutes of expert one-on-one or couple's instruction
MAJAA KIDS' CLUB
Everyone can discover the Maldives at our family-friendly resort. Through play, themed games and island adventures, your little ones enjoy getting a taste of the country's rich culture.
LITTLE ADVENTURERS
There's so much excitement that awaits our young guests, and Majaa Kids' Club ensures your little ones enjoy their vacation as much as you do. We have a world of discovery just waiting to be explored by our junior guests.
Marine adventures
Sports and games
Arts and crafts
Culinary workshops
ALL ABOUT MAJAA
Majaa Kids' Club is a haven for our guests aged 3-12 years old, and is free of charge, with the exception of a few activities. For more information on what's on offer, drop by and say hello – find us on Rangalifinolhu Island.
Babysitting service provided, with 24-hour notice required
Children under three are welcome with a parent, guardian or babysitter
Meals provided with bookings made 24 hours in advance
TAKE THE PLUNGE
Gaze into the blue from our resort's two infinity pools – one designed for adults on Rangali Island, and another for families, complete with kids' pool, on Rangalifinolhu Island. Lounge the day away or lap up the action, the choice is yours.
THE MAIN POOL
The 430-meter infinity pool, located on the family island of Rangalifinolhu, offers views across the Indian Ocean. Created for families to while away the days, the pool is accented by the sand-floored Rangali Bar, with extensive lunch and dinner menus alongside cocktails, regular live music and events.
THE QUIET ZONE POOL
Exclusively for adults, The Quiet Zone infinity pool overlooks the lagoon and is complete with an open-air tented lounge on the beach, a fully stocked bar and tempting menu. Unwind on daybeds with chilled-out music and the glittering horizon – from morning till late evening.
THE KIDS' POOL
Our family-friendly resort means the kids have just as much fun as the grown-ups. The main island's infinity pool features a pool designed just for the little ones. You'll often see them learning the basics of scuba diving and snorkeling in their specially designed "bubble making" classes.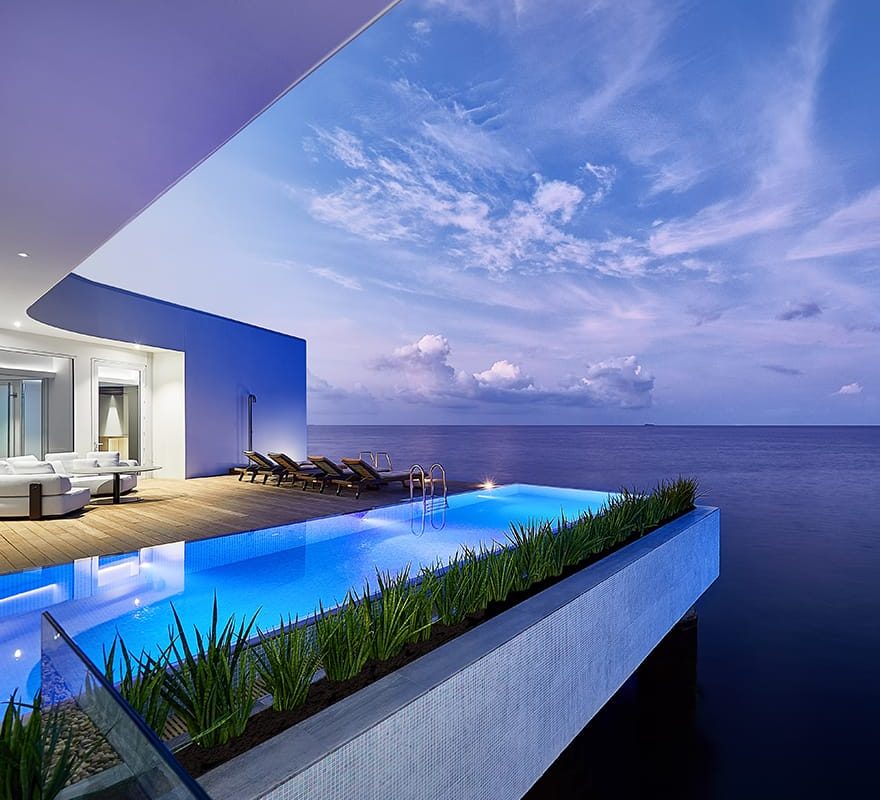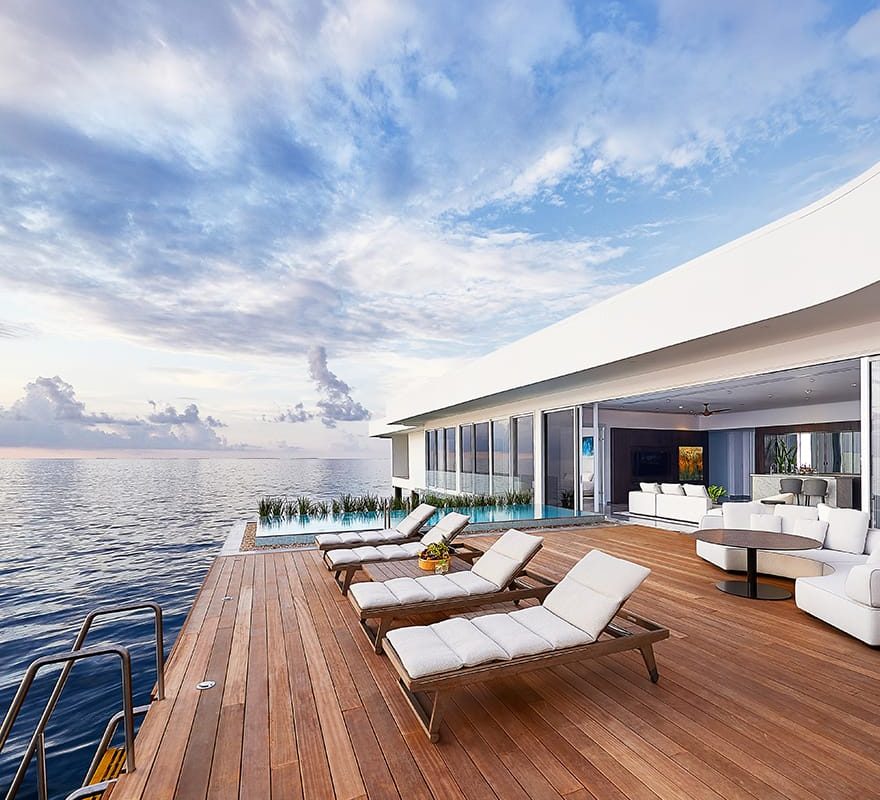 Make the most of your visit to Conrad Maldives with unforgettable experiences in the Indian Ocean. Sail, dive and explore our aquatic wonderland.
Get up close to the Indian Ocean and send your adrenaline racing. Our experienced instructors offer a wide range of motorized and non-motorized watersports that suit your taste for adventure.
Catamaran sailing and glass-floored boat trips
Inflatable, kayak and sea-bob rides
Jet skiing and water skiing
Paddle boarding and wakeboarding
Wind surfing and scooter-snorkeling
X-Jetpacking and X-Jetblading
OCEAN DIVE CENTRE
If you dream of life below sea level, join our diving courses and excursions. There's an abundance of fish, coral, turtles, rays and sharks waiting to be discovered. For amateurs and experts alike, find us on the main island.
Adventure diver certification course
Bubblemaking diving for kids
Day and night scuba experiences
Open water entry-level and advanced certifications
Photo and video services
Private trips and guides
ACTIVITIES ON THE ISLAND
Live like a local with our insider knowledge. Discover every must-see sight and hidden island gem.
THIS IS  A MAGICAL PLACE – CAN YOU SAY BUCKET LIST!
ENJOY, CHRIS