Four Relativity Safe, Active Volcanoes  to get Up, Close and Personal!
Kilauea is one of the world's most active volcanoes. It is a shield-type volcano that makes up the southeastern side of the Big Island of Hawaii. The volcano rises 4,190 feet (1,227 meters) above sea level and is about 14 percent of the land area of the Big Island. The summit caldera contains a lava lake known as Halema`uma`u that is said to be the home of the Hawaiian volcano goddess, Pele.
Things to do in Kilauea
A once-glowing grotto at the bottom of The Blue Room.
To the casual observer, Kilauea appears to be part of the larger volcano Mauna Loa, but geological data indicates that it is a separate volcano with its own vent and conduit system. Kilauea has had more than 60 recorded eruptions in the current cycle, according to the U.S. Geological Survey, and has been erupting on a continuous basis since 1983.
On May 3, 2018, the volcano erupted dramatically, several hours after a magnitude-5.0 quake struck the Big Island. The eruption spewed lava into residential subdivisions in the Puna district of the Big Island, prompting mandatory evacuations of the Leilani Estates and Lanipuna Gardens subdivisions, the Honolulu Star-Advertiser reported.
There are not one, but three active volcanoes located on the island of Hawaii (Hualalai, Mauna Loa, and Kilauea) and you can easily check them all out. That said, Kilauea is the only one of the three that's been erupting continuously since 1983 — the other two have not erupted in a little while — so this is the one you want to focus on.
Drive the Chain of Crater Road (18.8 miles).
Drive Chain of Craters Road
Chain of Craters Road is an Exceptionally Scenic and Spectacular Drive.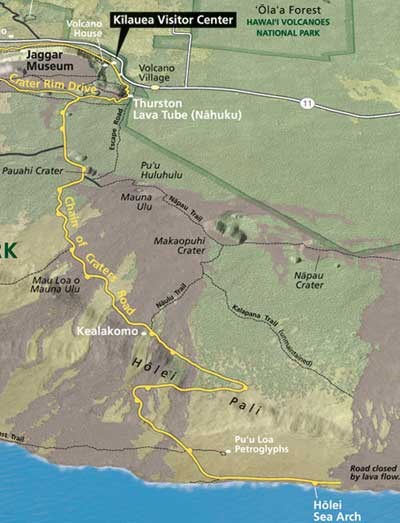 Since 1986, lava has flowed repeatedly over Chain of Craters Road/Highway 130. The Park's acreage has been increased by hundreds of acres and nearly 9 miles (14.5 km) of road have been inundated by the flows. In June 1989, Waha'ula Visitor Center and associated buildings were burnt and covered by lava. The Waha'ula Heiau was surrounded by lava more than once and finally buried entirely in August 1997. The Kamoamoa village site, heiau, campground, picnic area, and black sand beach were covered by lava in November 1992.
In 2003, flows covered Chain of Craters road just past the Hōlei Sea Arch. When conditions permit, a drive down to the "End of the Road" offers visitors an opportunity to view excellent examples of the slow advance of lava across the coastal plain. These flows are characteristic of pāhoehoe on relatively flat terrain at a great distance from its vent.
Presently, the Chain of Craters Road is 18.8 miles (30.3 km) to the end of the road with an elevation change of about 3,700 ft. (1,127.8 meters). Chain of Craters Road begins off of Crater Rim Drive, 3.3 miles or 5.3 kilometers south of Kīlauea Visitor Center.
How many volcanoes are there in Iceland? How often do they erupt? What is the chance of an Icelandic volcano going off on your holiday? Are they safe to visit? Read ahead for the ultimate guide to volcanoes in Iceland.
You can hike on your own from Rifugio Sapienza (you'll have to get there by car or public transport) until meter 2700. After that, you'll need to jump in a cable car (funivia) or a 4×4 minibus to reach the summit.
If you don't feel comfortable hiking Etna on your own, you can hike with a group for the "long trek". There is only one group departure daily early in the morning leaving from Rifugio Sapienza.
If you want to hike a little, but don't feel capable of hoofing it all the way, you can hike with a group for the "short trek". The short tour includes the cable car (about 15 minutes), 4X4 (about 40 minutes), and a short trek (40 minutes) to a low crater.
New Zealand Beaches
BEST New Zealand BEACH HOTELS AND PRICES