JULES' UNDERSEA LODGE
Have you ever wanted to sleep on the ocean floor? Sound a bit strange, who knows! For those with an open mind and an adventurous spirt this may be for you.
Have you ever wanted to be certified so you could enjoy the thrill of scuba diving? A lot of us have and have never been in an environment to acquire these skills. Here is an opportunity that should at least be considered. Its a two for one!
JULES' UNDERSEA LODGE
At first glance Jules Undersea Lodge might seem like another over the top tourist spot but the lodge actually began it's existence as a research facility.  Known as La Chalupa research laboratory placed to explore the continental  shelf off the coast of Puerto Rico. The authenticity of the habitat is what really sets it apart from other attractions.
The Lagoon  located in Key Largo where the Undersea Lodge resides has something to offer from the professional diver to the snorkeler or candidate for scuba certification. What a great opportunity! The Lagoon is a natural nursery area  for most of our reef fish such as parrotfish, snappers, angelfish, feather duster worms, oysters, anemones, sponges, etc…
This is the first and only underwater hotel where scuba diving is the only way to get to your room and the only underwater research lab made accessible to the average person.
"Marine life is actually enhanced by the presence of the lodge. It serves as an artificial reef, providing shelter and substrate for marine animals. The flow of air to the Lodge constantly adds oxygen to the entire surrounding body of water, creating a symbiotic relationship between the technology of man and the beauty of nature.
Are you hungry? Why not order a pizza!  Jules' Standard Program For Dive Buddies (One Stateroom)  Includes your pizza dinner and breakfast. Dive buddies can stay in the same stateroom (there are two bunks) Must be requested when making reservation.
The actual structure of the lodge is sitting on legs five feet above the ocean/lagoon floor. Entering the hotel is done by swimming under the lodge and entering through a 5×7 door "moon pool" gravity makes this safe and possible. The room you first enter on the lodge is referred to the wet room. This is where you leave you gear before actually entering the living quarters. Remember the movie The Abyss or Deep Blue Sea.
The common room is eight by twenty feet, it has a galley (kitchen), entertainment center, games, intercom, WiFi, Fire Stick and a great collection of DVDs . But lets face it, the main focus is the 42 inch windows in all the rooms. Imagine what it would feel like to wake up in the morning to a School of Snappers, Angelfish or a Sea Turtle starring through the window at you. There's really nothing like it!
The hotel is monitored 24/7 and it's base of operation is strategically placed at the edge of the Lagoon. The control center is connected  by an umbilical cable which provides power, water, fresh air and communications.  They take every step to ensure a safe yet exciting adventure for our guests".  Included in the Lodge's luxury packages are gourmet prepared meals, they are delivered via scuba by a  "mer chef"  and prepared for you in the common area.  They also have flowers, cakes and pastries for special occasions.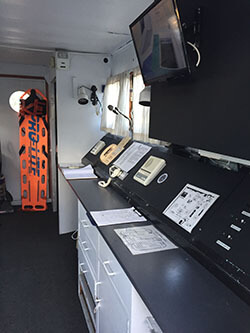 Control Room on the surface  edge of Emerald Lagoon
Guests of the Lodge have included many celebrities, including former Canadian Prime Minister Pierre Trudeau; rock stars Steve Tyler of "Aerosmith" and Jon Fishman of Phish.
Guests can stay from three to 24 hours, or more!
When guests visit or vacation at the  Lodge in Key Largo, Florida, they quickly realize this is not at all a Disney Dream Vacation amusement or exhibit.  If you are not a diver you will have a chance to learn through the courses they provide,  approaching the world's only underwater hotel underwater is an experience in itself.  Relax and get to know the underwater world that so few of us have even visited.
So you don't want to stay the night… "No Worries!"
Enjoy a three hour visit to Jules' Undersea Lodge and have a WORLD FAMOUS pizza lunch. If you are not SCUBA certified, you will need to book the Discover SCUBA Diving program as well.
$150.00 per person and includes the lagoon fee. Two person minimum. 
Overnight Stays For Couples
 For two is $800 and includes their famous pizza delivery dinner. Breakfast is continental style. There's plenty of water, soda, and snacks as well. Dive gear is included in your package.
PRIVACY FEE: You may guarantee total privacy in the Lodge by paying an additional $175. This fee guarantees that no other guests will be booked in the Lodge during your stay. Must be requested when making reservation.
Single Occupancy: $675
-Group Economy Packages-
Group of 3-4: $350 per person
Group of 5-6: $300 per person
Gourmet Meal Add-On – Get your choice of lobster or filet mignon, baked potato, vegetable, salad, roll, butter and home made Key Lime Pie for an additional $80 per person.
To visit the Lodge you must be a certified SCUBA diver or take the Discover SCUBA course upon arrival. They accept all current agency certifications (PADI, NAUI, SSI, etc) but you must show proof of certification. If you arrive without a certification card, we must verify your certification with your agency. If we are not able to verify your certification, you will need to take the Discover SCUBA Diving course to continue.   (It's a mere $95 and worth every penny)
You cannot take the Discover Scuba course if you:
Are not able to swim  –   Are pregnant    –   Are insulin diabetic
-You should seriously consider not diving if you-
1. Have had difficulty with your ears
2. Are claustrophobic or have panic attacks
3. Are currently suffering from a cold or congestion
Snorkel: $15 per person.  –   Dives: $35 per person per day
The Ultimate Romantic Getaway Package
For those in love.    Check out The Romantic Package (many couples have been married at the lodge.) Take exclusive control of the lodge from a 1:00 p.m. check-in to a 10:00 a.m. check-out.   Fresh flowers and appetizers will greet you and  have your choice of Filet Mignon or Florida Lobster Tail with all the trimmings at dinnertime.   All dive gear is included in your package. $1,395.00 plus 12.5% tax.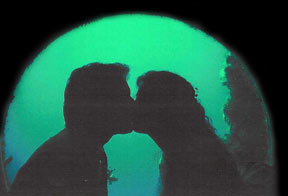 Have Fun Everyone, Step Out Of The Ordinary, You'll Be Glad You Did!
HOW TO INQUIRE ABOUT AND RESERVE JULE'S UNDERSEA LODGE   (CLICK HERE)
Happy Travels!
Chris