SALIDA, BUENA VISTA TRAIL MAP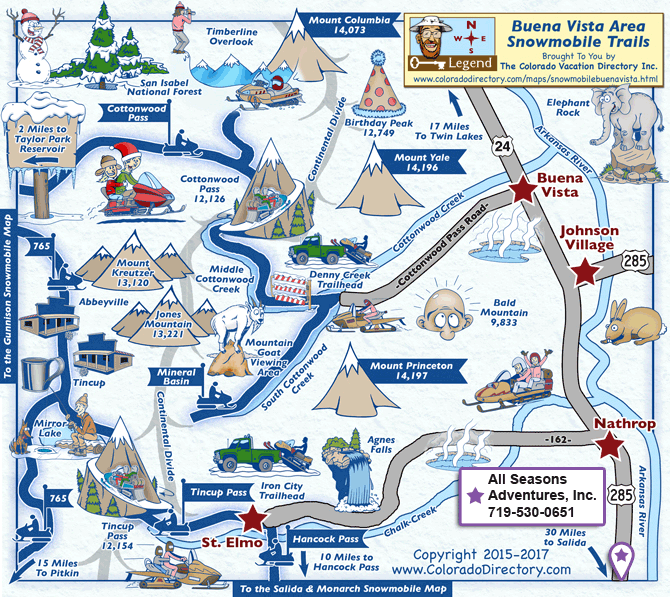 Snowmobiling in Buena Vista
The Buena Vista area is beautiful year round! When winter is at its height and the Colorado mountains are in their snow-blanketed glory, snowmobiling is a great way to get out and experience their splendor. The Buena Vista area snowmobile trails consist of groomed trails located in the San Isabel Forest. They offer varying terrain that is suitable for all levels of expertise, with trails that range from easy to difficult. The trails travel near or cross over the Continental Divide, which is where the water flows to the west, toward the Pacific Ocean, on one side and to the east, toward the Atlantic Ocean, on the other. The Upper Arkansas River Valley is surrounded by several fourteeners, mountains which summit at over 14,000 feet high, just part of the gorgeous scenery in the area. The trails are accessible from the towns of Buena Vista, Johnson Village, Nathrop, and St. Elmo.
From  flat, rolling meadows to steep, craggy mountains, snowmobiling in Leadville has it all. Centrally located, Leadville's groomed trails are just 85 miles west of Denver, 21 miles south of the Copper Mountain ski area and 35 miles north of Buena Vista. The trails run from 10,000 to over 13,500 feet in elevation and brush the San Isabel National Forest, offering something for everybody. Families will enjoy the East Tennessee Trail, located just off Highway 24 on East Tennessee Road, which offers easy riding and several areas to stop and play. More experienced riders will enjoy the steeper trails near Slide Lake. Whatever your style, though, be sure to exercise caution as many of the trails are shared with skiers.
WHERE IS SALIDA, COLORADO
6 HOURS: single $200 / double $300 Two machine minimum
​

OVERNIGHT: single $270 / double $310 
Holiday Rates
ALL DAY (6 hour) rentals only: Single Riders $270 / Double Riders $310
All Season Adventures  Snow Mobile Tours
SNOWMOBILE RENTAL RATES
Must be 16 to Drive • Call for Group Rates
Snowmobile Rental Single or Double Rider
| Single Rider | 2 Hour | 3 Hour |
| --- | --- | --- |
| 550cc | $110 | $140 |
| Double Rider | 2 Hour | 3 Hour |
| --- | --- | --- |
| 550cc | $150 | $185 |
All machines are Polaris 550 RMK or Deluxe touring!!!
Age requirements: Must be 16 or older to drive your own machine and 4 years old to be a passenger.
Come enjoy the deep powder of the Rocky Mountains. Our snowmobiles can take you anywhere you want to go, from packed trails to powder-filled bowls.
CLICK  –  Other Cool Things To Do In The Area
Welcome to the Silver Ridge Lodge!
Built in the mid 1960's Silver Ridge Lodge (SRL) is a wonderful throwback to the days of families and friends packing into their cars to explore and cruise this beautiful country.
$75 per night…  GOCHEEPNOW!
Our architecture takes you back in time – our nicely updated rooms and modern amenities give you a welcoming feeling and opportunity to relax in this wonderful mountain community.
We are nestled right off Highway 50 (Rainbow Blvd) so you can peacefully enjoy the beautiful mountain views all around.
This property is family owned and operated and we would be thrilled to share our beautiful lodge with you! Cruise on over to Silver Ridge Lodge and enjoy your visit to Salida with us!
The Silver Ridge Lodge Has
Complimentary Continental Breakfast
Outdoor Hot Tub
Outdoor garden sitting areas
Elevated sundeck above our roof for 360° views of the beautiful mountains all around us
Free High Speed Wireless Internet
Discount tickets for all guests to the Salida Hot Springs Pool and Mt. Princeton Hot Springs Pool
Salida Hot Springs Pool
Mt. Princeton Hot Springs Pool
HERE  -Check Out Other Hotels / Motels InThe Area. –  HERE
GOCHEEPNOW
For Best Flight Prices to the area go to Airfarewatchdog.com.
AIRFAIRWATCHDOG   Build a Better Weekend WEEKEND DEALS  –  CLICK HERE     …
Just put in your desired price and let it search and alert you when your request comes up.
Closest Airport  –  Harriet Alexander Field Airport
Local Must Restaurants During Your Visit