Just a friendly reminder…    It's time!
Last updated: February 18, 2021
CRAZY VIDEO AT BOTTOM OF POST
That once a year magical gift from Mother Nature.
It's Free and Accommodations are Dirt Cheep. One of the most Magical and  Affordable Vacations one may ever find,
LETS GO TO THE BEACH IN COLORADO WITH ACTUAL WAVES
Medano Creek 
GREAT SAND DUNES NATIONAL PARK, COLORADO
A sandbox of epic proportions, the entire dune field encompasses 30 square miles and the tallest dune towers 750 feet high. The kid in every visitor loves to sled down the sandyear-round and plunge into the soft-sand tracks of those who climbed ahead of them.
THIS IS A GREAT PLACE TO GET AWAY FROM EVERYONE AND STILL LIVE A LITTLE
An inexpensive way to be greatly impressed!
The park's elevation (8,200 feet) and rural location make it a favorite with dark-sky-loving stargazers, and it even offers special astronomy programs many evenings May–September.
For surge flow to occur, three elements are necessary: a sufficiently steep channel, a sandy creek bottom, and plenty of flowing water. This combination only exists in a few places on Earth, and Medano Creek is considered the best place in the world to experience surge flow!
SEE THE SUNSHINE
AT MEDANO CREEK UP CLOSE-UP AND PERSONAL
RENT A CAMPER TODAY
Due to unusually cold, wet conditions in May, peak flow is occurring a little later than average this year.
Every year, melting snowpack creates a so-called surge flow in the Medano Creek in the Great Sand Dunes National Park. The surge can send waves up to three feet tall lapping onto the dune field, according to park official Eric Valencia.
What's called "Colorado's Natural Beach" draws tens of thousands of visitors during peak season. 
"The stream surge is actually quite a unique phenomenon," Valencia said. "As the water flows through the sand, the sand begins to kind of tumble down and eventually it will create a small dam. The pressure of the water will break that dam of sand and it forms a wave."
The underwater ridges break around every 20 seconds to create a wave.
The dunes are located in the Southern Colorado Rocky Mountains. The water from upstream spreads out at the foot of the dunes into wide, shallow water.
Medano Creek has exhibited some surge flow despite cold temperatures and slow snow melt this spring, according to the park. 
Colorado Springs, CO · (719) 550-1900
Municipal airport with art exhibits
San Luis Valley Regional Airport
Alamosa, CO · (719) 589-1138
Pueblo Memorial Airport
Pueblo, CO · (719) 553-2760
HOTELS NEAR MEDANO CREEK, COLORADO – HOTELS.COM
Medano Creek will rise peak flow this year June 1st this year 2021. This is the best time of year to experience 'surge flow', a globally rare natural phenomenon where creek water flows in waves across the sand.
The pressure of the water flow is measured in cubic feet per second. As of May 31, the flow is only 22 cfs. The park calls this small surge flow. The flow typically peaks in late May or early June with around 40 cfs. 
Snowpack in Medano Pass is currently over 160 percent of normal. Because of that above-average snowpack, peak flow for Medano Creek is forecast to be sometime in the first half of June rather than the typical late May. The park also expects some shallow flow through July.
AIRBNB – MEDANO CREEK COLORADO – AIRBNB
Peak flow weekends tend to bring the highest number of visitors each year to the park. Valencia said visitors play in the water, skimboard, raft and make sand castles.
Weather and Conditions to Expect
Weather forecasts and information for Great Sand Dunes are available on the park's weather page. Also learn what Conditions to Expect Each Monthat the park.
Check Up-To-The-Minute Flow
See the current flow and trend of Medano Creek as a graph.
(Available spring through fall). Click "1 month" at the bottom of the graph to see the overall trend. The creek's flow on this graph is measured where it emerges from the forest and first enters the dunefield, not where it spreads out across the sand 5 miles downstream. This measurement gives an indication of the current flow relative to average peak flow. Peak flow in an average year is 40 cubic feet per second (cfs), typically occurring in late May or early June.
The Junior Ranger program has different activities for kids ages 3–12, and they earn a badge once they've completed the educational and fun tasks.
Become a Great Sand Dunes Junior Ranger at Home!
While virtually visiting Great Sand Dunes, we are offering you the opportunity to earn a Great Sand Dunes Junior Ranger badge or patch from your own home. Complete the activity corresponding to the correct age group below and the Backyard Bingo. Younger children may need the help of a parent or guardian. After completing the activities please email us, providing the following
Activities
The Great Sand Dunes activities linked below are on the Hands on the Land website, a partner organization with the National Park Service.
Just stop by the visitor center when you arrive, pick up your booklet or backpack, and go explore!
For more information, please call the Visitor Center at 719-378-6395.
Aside from the dunes, you'll find picnicking, hiking and camping opportunities, the challenging four-wheel scenic drive on Medano Pass.
There are horseback-riding trails, the mysteriously appearing and disappearing Medano Creek, ranger-led nature walks and a couple of 14,000- and 13,000-foot peaks to climb (Crestone Needle, Crestone Peak, Cleveland Peak and Mount Herard).
CAMPING IN GREAT SAND DUNES NATIONAL PARK
There are a few options for camping in the area. The Piñon Flats Campground is run by the National Park Service, with 44 sites that are first-come, first-served and 44 that visitors can reserve in advance.
Little Medano
Mosca, CO
Indian Grove
Mosca, CO
Piñon Flats Campground
Mosca, CO
Rustic park campsite with fire pits
For those traveling in 4WD vehicles, there are 21 campsites along Medano Pass Roadwithin the park that are free and available on a first-come, first-served basic.
For those willing to haul their gear and everything else needed in backpacks, free backcountry permits (required) are available at the park's visitor center. You can pitch your tent anywhere in the 30-square-foot dunefield that lies outside the day-use area. You'll have a minimum hike of 1.5 miles over the dunes, but will experience a unique overnight setting.
Backpacking (with a permit) is also available amid the foothills and mountains along the Sand Ramp Trail within the park, where the dunes give way to the mountains.
There are also several private and public campgrounds within an hour's drive of the park, including those at San Luis Wildlife Area, with facilities that range from primitive to luxurious (for camping!).
MAGIC MOMENT
Choose your own calf-burning path up the dunes, particularly at dusk when the light gives them a rich gold color and shadows snake across their wind-sculpted ridges. Dig your toes into the sand or feel it run through your fingers, and you'll realize their true enormity.
EXTEND YOUR TRIP
Zapata Falls

Snowmelt from the San Juan Mountains flows through a thirsty landscape across the San Luis Valley to one of the longest rivers in the country: The Rio Grande. Nearby, Zapata Falls — a secluded 25-foot waterfall sheltered in a rocky crevasse — is welcome respite for visitors to south-central Colorado.
San Luis Wildlife Area
Close to Great Sand Dunes National Park, this peaceful park has 51 campsites with showers, electricity and laundry. Enjoy fishing, watersports, trails and wildlife viewing. Check with Park or Website for current conditions.
San Luis Valley National Wildlife Refuges (Alamosa and Monte Vista)
Alamosa, Monte Vista, and Baca Refuges form the San Luis Valley National Wildlife Refuge Complex. This Complex is a part of the Refuge System, a network of lands that conserve wildlife and habitat.
Fort Garland was built in 1858, ten years after the Treaty of Guadalupe Hidalgo, during American expansion into the west. Today, visitors can explore life in a nineteenth century military fort by walking the parade grounds and touring five of the original adobe buildings. Learn about the Buffalo Soldiers of the 9th Cavalry who were stationed at the Fort from 1876 to 1879. Discover Colorado's role in the Civil War in the West exhibit. Rich in military history, Fort Garland highlights the women and children who brought a bit of home to the fort. From the Fort, plan a visit to Pike's Stockade, where Zebulon Pike and his men camped in the early 1800s.
Colorado Gators began in 1977 as a fish farm to raise tilapia for human consumption. The geothermal well is 2050 feet deep and 87 degrees. In 1987, the first alligators were brought in as "garbage disposals" for dead fish. Some of these original gators are now 11 feet long and weigh over 500 pounds. There are many species of exotic reptiles on our farm, most of which come from uninformed pet owners, or are sent by police and animal control agencies. We take care of these animals as best we can and display them for education of the public.
RESTAURANTS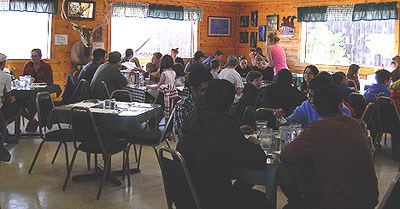 Restaurants
The Oasis Restaurant and Store, located at the main park entrance, is the only restaurant within 25 miles of the national park. The Oasis is open April through October. A wide variety of restaurants are available in Alamosa (38 miles southwest of Visitor Center). The towns of Hooper (30 miles northwest), Blanca (27 miles southeast), and Fort Garland (31 miles southeast) each have at least one restaurant. The Sand Dunes Swimming Pool, located 3 miles northeast of Hooper, has a grille restaurant on grounds.
WATCH THIS VIDEO AND GET HOOKED
CAMPING IN GREAT SAND DUNES NATIONAL PARK
AIRBNB – MEDANO CREEK COLORADO – AIRBNB
Peak flow weekends tend to bring the highest number of visitors each year to the park. Valencia said visitors play in the water, skimboard, raft and make sand castles.
Colorado Springs, CO · (719) 550-1900
Municipal airport with art exhibits
San Luis Valley Regional Airport
Alamosa, CO · (719) 589-1138
Pueblo Memorial Airport
Pueblo, CO · (719) 553-2760
HOTELS NEAR MEDANO CREEK, COLORADO – HOTELS.COM
HOME AND CONDO RENTALS  – MEDANO CREEK, CO   
SO UNIQUE AND SO MUCH FUN!